Excitement is in the air as Half Price Laundromat proudly announces the ribbon cutting ceremony for its third location right here in Winnetka! This monumental event was made possible through the tremendous support and sponsorship of the Winnetka Chamber of Commerce. As the ribbon is cut, we embark on a new journey to provide exceptional laundry services while further strengthening our community bonds. 
A Legacy of Excellence
Half Price Laundromat has a long-standing reputation for providing top-tier laundry services with a commitment to affordability and customer satisfaction. Founded in 2018, our journey began with a vision to make laundry a convenient and affordable experience for all. Over the years, we have expanded our operations, bringing high-quality laundry facilities to communities across the Valley.
The Winnetka Chamber of Commerce: A Beacon of Support
The grand opening of our third location is a testament to the strong support we receive from the Winnetka Chamber of Commerce. The Chamber's sponsorship played a pivotal role in turning this dream into reality. Their dedication to fostering local businesses and promoting community development has made them an invaluable partner in this endeavor. We are grateful for their unwavering support, and we look forward to collaborating on future initiatives that will benefit the Winnetka community.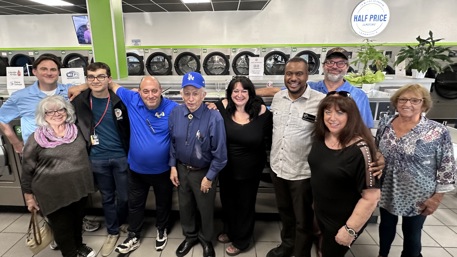 A Modern Oasis for Laundry Needs
Our new Winnetka location is designed with your comfort and convenience in mind. We understand that doing laundry can be a chore, which is why we have created a modern and welcoming space where you can relax while your laundry gets done. Our state-of-the-art equipment ensures that your clothes receive the utmost care and attention, while our friendly and knowledgeable staff is always ready to assist you.
Affordability That Matters
At Half Price Laundromat, affordability is at the heart of our mission. We believe that everyone should have access to high-quality laundry services without breaking the bank. With our competitive prices and loyalty programs, you can be sure that your laundry experience will not only be convenient but also cost-effective.
Community Engagement
We are more than just a laundromat; we are a part of the Winnetka community. Our commitment to community engagement extends beyond our services. We actively participate in local events, support charitable initiatives, and strive to make a positive impact on the lives of Winnetka residents. With the support of the Winnetka Chamber of Commerce and the community, we are excited to continue these efforts and strengthen our bonds with our neighbors.
Join Us for the Ribbon Cutting Ceremony
We invite you to join us for the official ribbon-cutting ceremony, which will take place on September 19 from 5:30pm to 7:00pm. The event will be held at our new location at 20021 Roscoe Blvd., and it promises to be an occasion filled with joy, celebration, and the spirit of community. Together, we will mark the beginning of a new chapter in Half Price Laundromat's journey.